CharViewer

You can see character information with this app.
Unicode Code Point
UTF-8 Byte Sequence
Unicode Description
This app even supports control characters, if you can copy & paste. This might help you when debugging programs.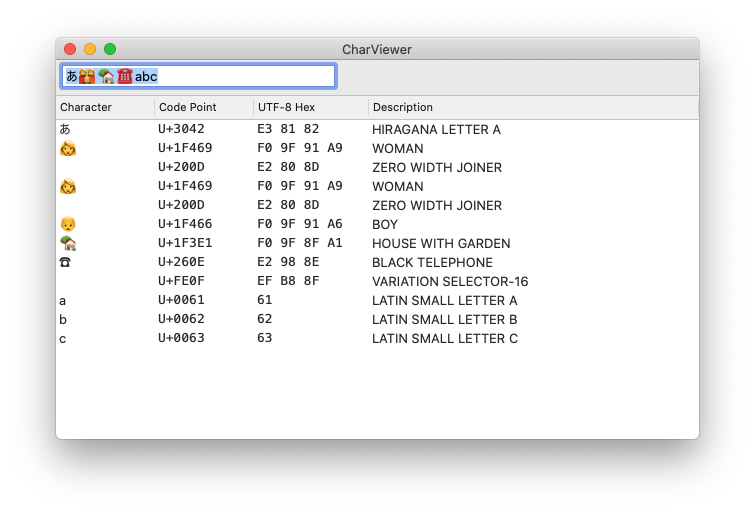 System Requirements
macOS 10.14 (Mojave) or later
Older versions of this app also support 10.12 (Sierra) and 10.13 (High Sierra)
Get the App
Mac App Store (recommended)
Although there is no difference between Mac App Store version and direct-download one, I recommend using Mac App Store because you can easily get future updates.
Version History
v1.1 : released on 10 Jun 2020

Now you can copy the character analysis, using contextual menu, which appears when you right-click the result.
Code Point and UTF-8 Hex are now shown in monospaced font.
supports macOS 10.14 (Mojave) or later

v1.0 : released on 26 Aug 2019
Privacy Policy
Summary
Your private information will be treated based on this policy. By using this app, the author assumes that you agreed with this policy.
What is Collected
Although this app does not collect any of your information directly, summarised data (e.g. download count) described in this page might be collected.
How are the data treated?
The author will use the collected data ...
Are the data supplied to others?
No, except Apple.
Requests / Inquiries